Customer Reviews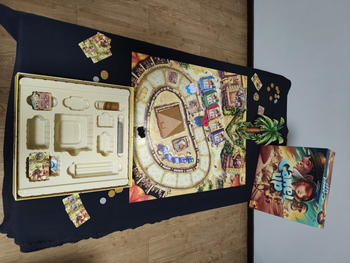 08/20/2020
I recommend this product
A crazy fun game!
My 11-year-old son, my wife, and I have been enjoying this game! The fun comes from a lot of aspects of the game: 1. The well designed materials and the artwork. From the game board with the giant 3D palm tree, to the cards; from the camels to the coins. I love the feel of the camel pieces. They stack neatly; and they feel durable. Also, I love the dice pyramid! 2. Suddenly having to bet on another camel because the lead camel you've been betting on is suddenly third place after two other camels got on top of it! 3. Suddenly changing your bet on the overall winner and overall loser because a spectator tile, the stacking of camels, or the crazy camels have just rearranged the order of the camels! 4. The crazy camels! During our last game, my wife and son were hugging each other because they were scared that the race would end after my turn (It was my turn on the dice pyramid.) We had all bet on the purple camel to win the race; but the red camel, which was in 4th place in the previous legs, just came out of nowhere to take the lead! And now our purple camel was in third place! The purple die dropped, and the purple camel ended up carrying the red camel to victory. Aaargh! In the end, Nanay had the most Egyptian Pounds...just like in the last game! My son and I are undeterred. We will be back...to bet on the winners and the loser in the next game!
Francis L.
Philippines
11/25/2020
I recommend this product
Camel Up Review
Very Good! Transaction was fast and convenient with flexible payment terms.
Anonymous
Philippines
10/04/2020
I recommend this product
Great for families!
Playable with children who love rolling dice and also teaches counting because of the numbers in the race track. The unpredictability of the dice makes the game exciting for everyone, including adults, and the game has very minimal confrontation. I played this with my family at least two times in a row and we enjoyed playing every time.
Anonymous
Philippines