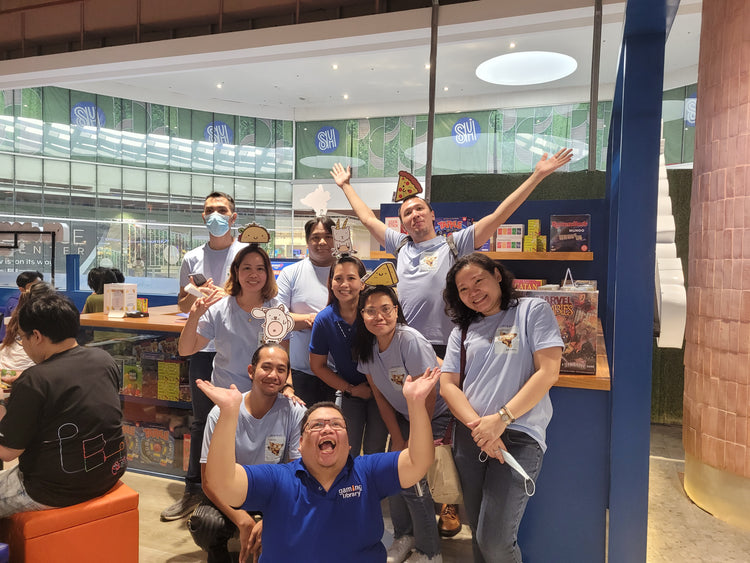 Welcome to XP

Fun and Laughter with Games
New Games for Play
Level Up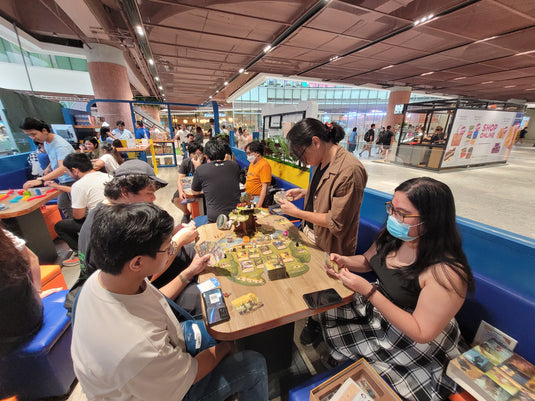 What's All aBOARD XP?
Find hidden gems along your tabletop game journey, with publisher-exclusive offers that you can't get anywhere else. Or take a sneak peek at the latest releases–fresh off of the annual international gaming conventions! 
At All aBOARD XP, our bevy of talented and sharp game coaches can assist newcomers and also pose as challengers to more experienced players!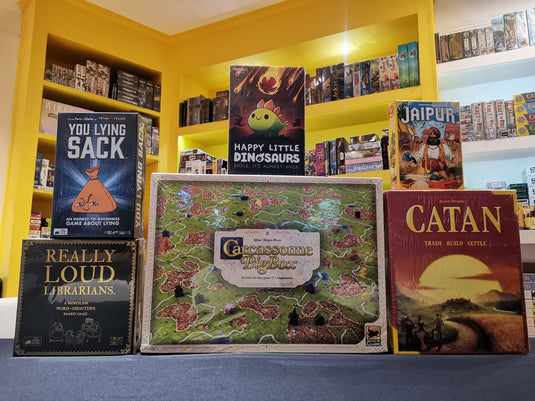 New Store Games You Can Try
Catan: Build, trade, and settle
Really Loud Librarians: Think fast with words.
Happy Little Dinosaurs: Avoid disasters.
Jaipur: Trade your way to wealth.
You Lying Sack: Is it good or bad?
Carcassonne Big Box: Construct a medieval landscape.
Practice Sessions
We're gearing up for a AAXPO, and we want YOU to be at your gaming best. That's why we're inviting you to join us every week leading up to October for some practice sessions:

👉 Wednesdays: Marvel Remix
👉 Thursdays: Cascadia
👉 Fridays: Ticket to Ride
👉 Saturdays: Catan

These game nights are the perfect opportunity to fine-tune your strategies, get to know the ins and outs of these titles and level up your skills. But here's the cherry on top: you can score some sweet play vouchers along the way! 🎉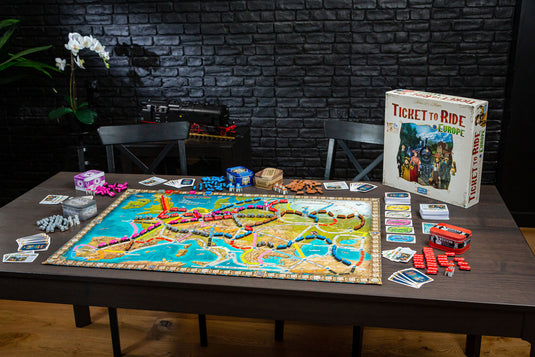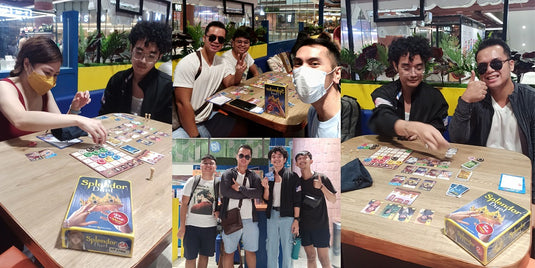 Tournament Thursdays
Come to All aBOARD XP before 7PM and play our featured title for a chance to compete in that night's Tournament Thursday event. By process of elimination, one player will be crowned champion, and they win shiny new play vouchers that can be used on their next visit!
Feature titles change every two weeks, so be sure to check in regularly!
All aBOARD XP In Your Schools and Communities
Gaming Library and All aBOARD XP regularly participate in school and community outreach programs that introduce a wide array of board game titles and new kinds of fun to be had with board games!
Schedule your next community board game day with us by contacting us!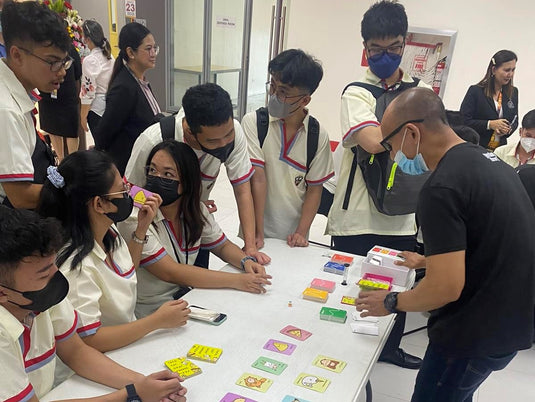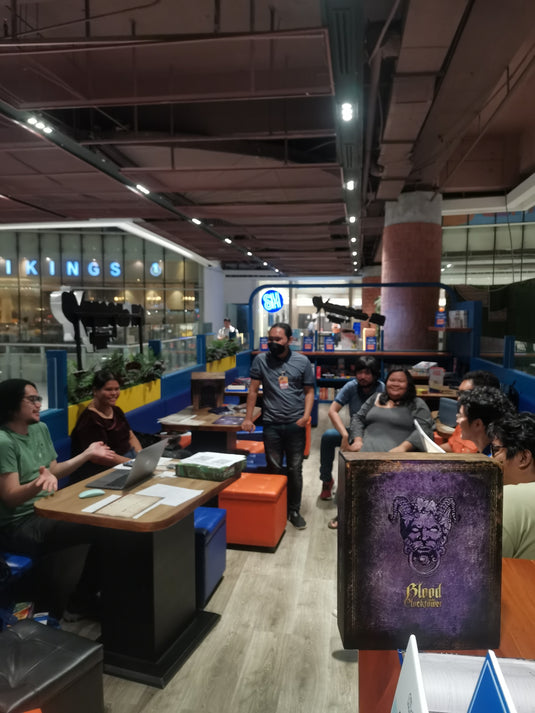 Blood on the Clocktower
Blood on the Clocktower is a game of murder and mystery, lies and logic, deduction, and deception for five to twenty courageous players and one devious storyteller.
Location
All aBOARD XP Uptown Mall
3rd Floor, 9th Avenue, Taguig, Metro Manila
Sun - Thurs, 10am - 10pm
Fri - Sat, 10am - 11pm

Contact Details: (+63)949 121 6606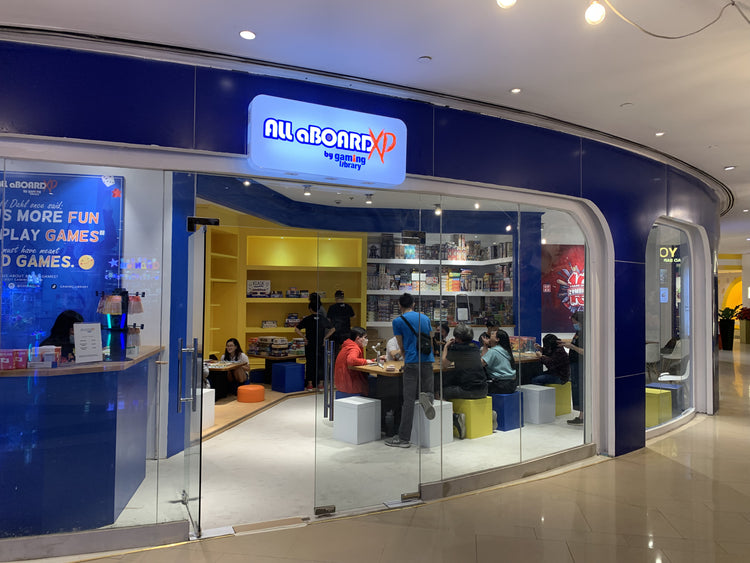 Location
All aBOARD XP SM North EDSA
4th Floor, The Block, EDSA Corner North Avenue, Quezon City, Metro Manila
Sun - Thurs, 10am - 10pm
Fri - Sat, 10am - 11pm
Contact Details: (+63)916 513 1312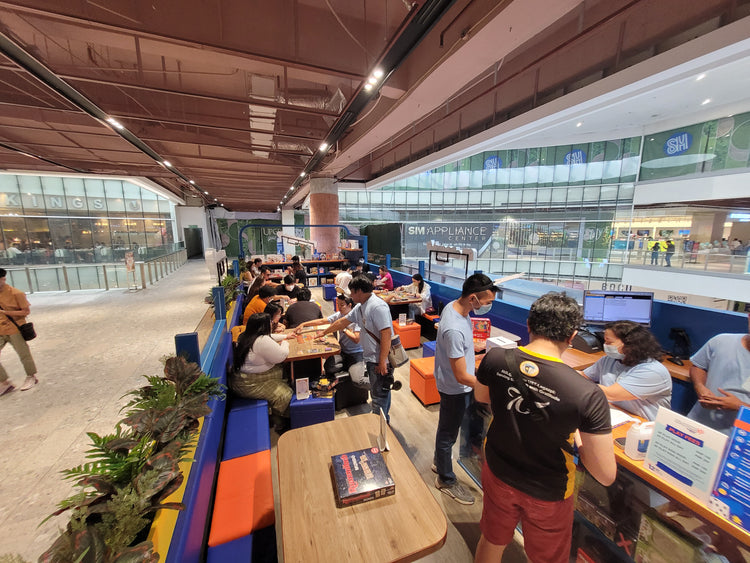 FAQ
What is All aBOARD XP?
All aBOARD XP is your new go-to board game hub and play space, located on the 3rd floor of UpTown Mall BGC, in front of the escalators headed for the food court. Named after the same event you've come to know and love, it's a space that aims to give you the freedom to peruse our vast collection of games and play them yourself. Seasoned players hunting for new challenges, casual fans seeking new party games to play with friends, and parents looking for new family-friendly activities are all welcome here. We have all the tools necessary to help you in your search!
Who will be there in XP? Who is It for?
New residents of the store are our trusty game coaches, who can facilitate game demos or play against you to sharpen your gameplay. Newcomers will be assisted through new titles and be taught how to play them, and they'll even play against you mid-session to determine whether a game is to your taste! More experienced, competitive players will be pleased to know that the game coaches are up for any board game challenge–and we mean ANY. Victory against our game coaches earns you not only major bragging rights, but given the right event, actual prizes too!
Do you do Corporate Events or Host Parties?
Board games are an amazing way to bond with friends or team build. They improve cognitive processes like memory and critical thinking, and sharpen teamwork skills such as decision making and communication, all skills essential to any work environment and culture. Co-op games teach us how our fellow team members think and how we can work alongside them for optimal results, while competitive board games teach us to study our opponents so we can determine how to outsmart them. And if nothing else, party games are great icebreakers and help make us comfortable with one another. All this taking place in an intimate, focused, yet relaxed and fun setting like All aBOARD XP!
If you're interested in hosting a party, team building, or corporate event at All aBOARD XP, simply click here to register your event with us and our team will get back to you!
Are there any house rules to observe when visiting All aBOARD XP?
Given that the space is dedicated to board games and their very vulnerable meeples, we ask that you refrain from bringing pets and food into the premises of All aBOARD XP. Drinks are permitted but only in spill/leaf-proof containers such as thermoses and tumblers. To-go cups are not allowed. While it is a child-friendly space, we recognize that not every board game has child-friendly elements, so children ages 10 and below must always be accompanied by a parent or guardian. Parents, guardians, or anybody meant to accompany children will pay the same fees as players do.
Our game coaches make sure your sessions run smoothly, and most importantly are plenty of fun! Part of that means that every session ends with a 10-minute wrap-up period to help coaches with clean-up and other tasks. Going beyond this grace period means you will be charged an additional hour to your session.
To account for the best quality experience, board games will be checked before and after being played, so play responsibly! Any lost/damaged pieces will be charged to players.
Lastly, while we understand that board games are bound to get you excited and shouting with glee, let's be considerate of our fellow players and keep our voices down to a reasonable level.
Any other questions or concerns can be addressed by our friendly game coaches!
How can I reach you?
The All aBOARD XP play space is available for renting for private events, so if you're looking to hold team building sessions, workshops, or even birthday parties, and All aBOARD XP is also open to hosting school or community outreach events.
For booking of events, simply click here! any inquiries regarding All aBOARD XP, you may contact our Senior Sales Executive Melanie Tangonan at (+63)9162686295, via email at sales@gaminglib.com, and on our Facebook page.