Customer Reviews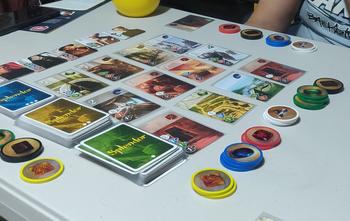 11/26/2020
I recommend this product
Favorite game!
I played this 2 years ago and was so happy to be able to purchase one for myself! Finally!!!
Anonymous

Philippines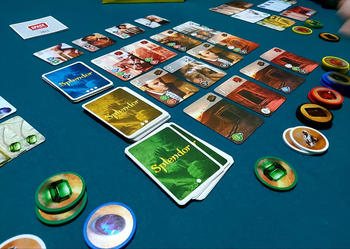 09/09/2020
I recommend this product
Splendid
You know a game is good when you think about it hours after playing it. Splendor is such a game. This is an engine-building game that's great for beginners. It involves strategy, like whether to get cards instead of gems on your move, and if gems, what types to get. After the first time Splendor hit the table, I replayed in my mind what I should have done instead. To me, that's a good indicator that I really did enjoy the game and would love to play it again (and again). The art on the cards is pretty good, and the gems are on good quality chips. I thought the box is way bigger than it should be, considering that there's no game board to play on. And the box arrived from Gaming Lib with a small dent on the corner, but all in all, I'm super happy that I made this purchase.
Ana K.

Philippines
02/03/2021
I recommend this product
Best Game
A step up from Monopoly. You will NEVER get tired of figuring out how to consistently win the game.
Anonymous

Philippines
02/02/2021
Splendid Splendor!
Classic!! Never fails to have the aha moment when someone suddenly wins from behind.
Anonymous

Philippines
09/24/2020
I recommend this product
Splendor is a fun and quick game with easy rules
Very quick to go through the rules and set up. The game goes quite fast (we were two platers) and there's more strategy than what you'd think. All in all, quite fun and fast and you get to use your brain for quick decisions based on what opponent is doing.
Anonymous

Philippines
03/04/2020
Simple and elegant
This is considered a gateway game, and probably one of the best of the classic ones. Don't expect everything to go as you plan. Yes there might be randomness in the cards, but it's how you position yourself to the competition. This plays well for any age. I saw a 7 year-old kid and a group of 60+ women play this over and over.
09/17/2015
Good for 2 players. Best with 4.
Invest-and-build, strategic-economy, gem-hoarding-combo game. Perfect for 2-4 players. My wife and I play this game every weekend. I always lose because she's an economist.
07/15/2015
Beauty in Simplicity
Splendor is a game about collecting resources in order to collect more resources in order to score Prestige. That's really it.. Its major draws are its use of actual poker chips as pieces and the very fine artwork and production values that obviously went into the making of this game. In terms of innovation it is nothing new. Games of similar sort have appeared over the years but the presentation of this one just catches one's eye as a must have for casual players. Abstract games like this with only an excuse of a theme severely turn me off, but I will not deny the reason why people seem to love this game: It is easy to set-up. Easy to teach. Easy to learn. And easy to enjoy. Because every playthrough is determined by 3 random decks of cards, there is no overall game strategy and there are still chances for newbies to beat veterans of the craft. To put it simply, this game has a little bit of appeal for everyone save for the most hardcore of war gamers who might be looking for a little more umph in their tactics. With that said, the question of buying Splendor often boils down to whether or not you can see inherent replays with such a simple concept. Do you see it as something you'd be playing regularly or is it something that you'd rather just play in a cafe or in someone's place on a boring Sunday Afternoon?