Customer Reviews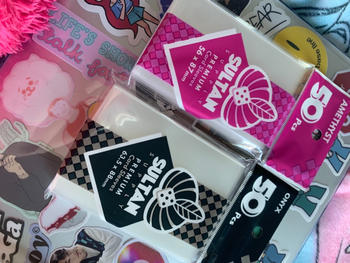 07/02/2021
I recommend this product
sultan onyx
Package was shipped safely, although it did take a while for it to get here. Had to double check with customer service for updates since it had been about a week for an onhand order to arrive. Nevertheless, rhey replied righr away and fixed it. Product has always been great.
06/11/2021
I recommend this product
Sultan Sleeves
I've tried various brands of card sleeves but Sultan is the best so far (at least for me). Will definitely buy more once I run out of stock from my initial purchase! :)
Anonymous

Philippines
05/10/2021
I recommend this product
Sultan Card Sleeves
I love the quality of the products. I received it in good condition. Thank you
Anonymous

Philippines
05/03/2021
Poor Correspondence
The product is ok. The ordering system of Gaming Library was not. Confirmation e-mails received were misleading. Dates/Times in the emails were not followed. Multiple e-mails sent were unanswered.
Anonymous

Philippines
05/02/2021
Card Sleeves
It was great! It actually kept my cards in great conditions. Also, thank you for the great service!
John C.

Philippines
03/07/2021
Super Sultan Sleeves
I was in the market for sleeves and did a bit of research on it. Sultan provided the best cost-effective option.
Anonymous

Philippines
02/10/2021
Decent buy
Highly recommended as it fits my card games and decent price.
Aldrick D.

Philippines
01/18/2021
Best Premium Sleeve Value!
Sultan sleeves haven't disappointed me yet. This has been my go to brand for almost all sleeve cards
Jerico H.

Philippines
12/18/2020
i asked them what sleeve is suitable for the cards I owned and it totally fits. It's all worth it.
Anonymous

Philippines
12/08/2020
Sultan sleeves
Really nice item fits perfectly
Anonymous

Philippines